Celebrating 60 Years of Shinin' Times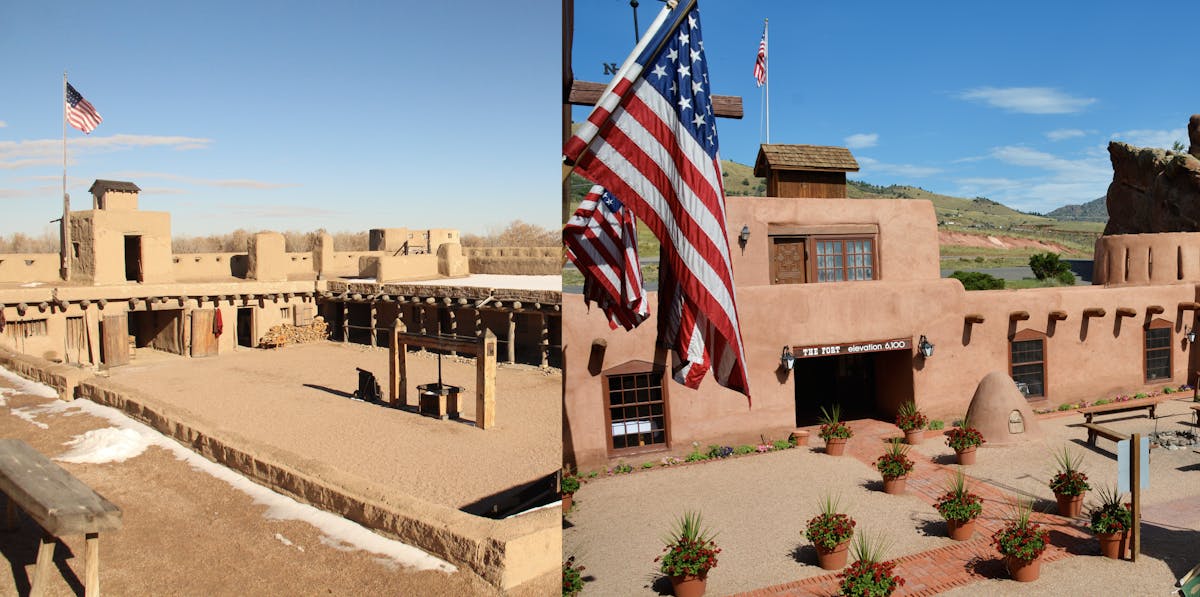 In 1961, Sam'l and Bay Arnold had a dream to build an adobe home outside of Denver so their family could grow up surrounded by fresh air, horseback riding and fishing. While Bay was reading a book about Bent's Old Fort, she was inspired to create a similar adobe castle in Morrison, Colorado.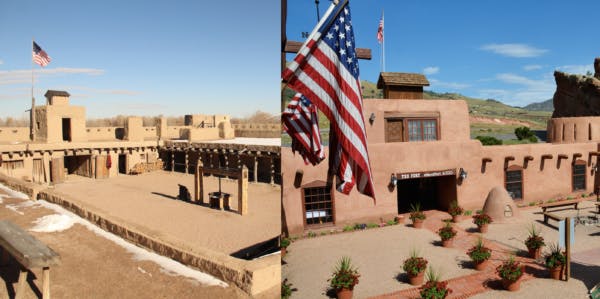 The Arnolds hired William Lumpkins, a top architect in adobe construction, as well as a contractor from New Mexico. The Fort was the first authentic replica of Bent's Old Fort and while it was originally intended to be a family home, construction costs ultimately exceeded the budget. To offset additional costs, the Arnold family decided to turn the lower level of the historic adobe building into a restaurant, recruiting Taos artists to hand-carve the furniture, gates, doors and chairs. Since its doors opened in 1963, The Fort has served true New Foods of the Old West.
A few months after opening the restaurant, the Arnold family adopted a rescue Canadian black bear cub named Sissy from the Denver Zoo, who lived at The Fort for 19 years. Sissy Bear, while the most famous of the Arnold family's pets, was not alone. Many other animals resided here when the gates opened in the 1960s, including four German Shepherds, an oversized tom cat, pet rabbits and even a skunk.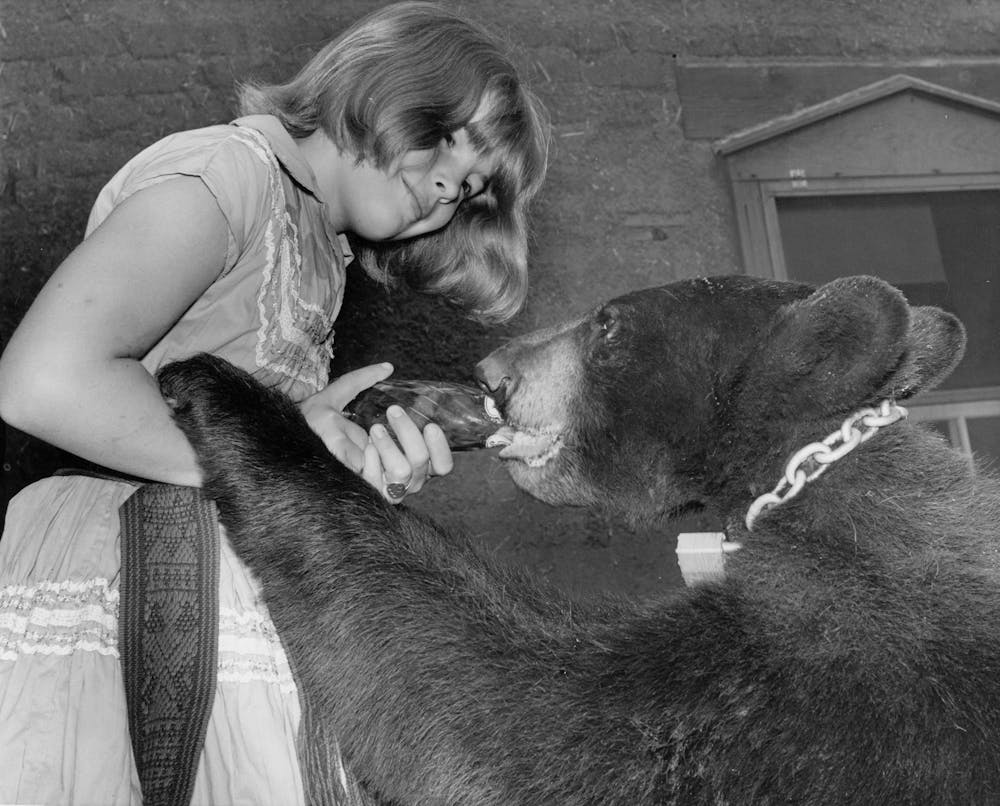 Over the course of 60 years, The Fort has received many accolades, most recently being named The Best Historic Restaurant by True West Magazine, and is a regular recipient of Wine Spectator's Award of Excellence. The restaurant also carries on many traditions, including the firing of our canon on the Fourth of July and New Year's Eve, and regular live flute playing from Eric "Many Winds" Herrera.
Holly Arnold Kinney, daughter of Sam'l and Bay, originally chose to pursue a career in advertising and public relations. In 1999, Kinney joined her father in business and purchased 49% of operating business at The Fort, while simultaneously operating her own agency, Arnold Media Services. Kinney eventually left the agency world in 2001, and later became sole owner of the legendary restaurant following her father's passing in 2006.
While the Colorado restaurant scene continues to change, Kinney works hard to maintain The Fort's legacy. In 1999, Kinney, Sam'l and Mary Fox Arnold founded the Tesoro Cultural Center, a non-profit dedicated to protecting and making available the artistic treasures of our American past, including Colorado's rich history and shared experiences with diverse cultures. Kinney was inspired to start the non-profit as a way to build the legacy of The Fort into a living, interactive history museum. Kinney has served as Executive Director of Tesoro since 1999 and oversees its educational programs, including the annual Indian Market and Powwow, 1840 Rendezvous Colonial Art Market, school tours and more.
Working on-site at The Fort, Kinney works closely with the restaurant's Executive Chef to develop and introduce new menu items, while staying true to the menu's historic roots. She pulls inspiration from her 3,000-volume rare and historic cookbook library, which details the cuisine of pioneers along the Santa Fe Trail, mountain men and American Indian tribes. Many of The Fort's original menu items can still be found on the menu today. The next time you dine with us, look for Sissy Bear's paw stamped next to menu items, representing original dishes from 1963.

Throughout the years, The Fort has served many presidents and celebrities, including Bill Clinton and Julia Child. As thrilled as we are by hosting such high-profile guests, our favorites are the loyal guests, many of them multigenerational, who have entered our doors since 1963. We hear from guests all the time about their own shinin' times at The Fort, whether it's a great dinner with family or friends, a holiday meal or a joyful bar mitzvah or wedding.
No matter how many years go by, one thing will always remain the same: Our guests are the most important and valuable piece of our business. We appreciate the continued support of our community and are honored to have served you for six decades.

We invite you to celebrate our 60-year anniversary with four different events highlighting the best of The Fort, starting this week!
The Fort's "Shinin' Times" 60th Anniversary Party (SOLD OUT)
Friday, February 17, 5-10 p.m.
Celebrating 60 years of Shinin' Times at The Fort. A "walk about" party featuring cocktails, all you can eat bites and live entertainment. Including a musical tribute to Sam Arnold and Ian Tyson.
The Fort's 60th Anniversary Silver Oak Dinner with Vintner Tim Duncan
Thursday, March 16, 5-10 p.m.
The Fort's 60th Silver Oak Wines and Bison Tenderloin Pairing hosted by Tim Duncan of the Silver Oak Family, with a special appearance by Bob Dineen of Rocky Mountain Natural Meats and Holly Arnold Kinney. Learn about wines, the bison industry and how they are all related to The Fort!
Featured cuisine includes Rocky Mountain Oysters Rockefeller, Fresh Oysters on the Half Shell, Buffalo Meats, Truffle Au Gratin and our signature Chocolate Negrita.
Limited tickets remain and can be purchased here.
The Fort's 60th Whisky Tasting in the West
Thursday, April 13, 5-9 p.m.
The Fort's 60th Whisky Tasting of West and Hearty Beginners. Featuring whiskies both new and old, paired with The Fort's signature bites.
We'll explore the history of whisky at Bent's Fort from the 1830s and sample whiskies served at that time by historian Rex Rideout. Also to be served are new and upcoming whiskies of Colorado.
Tickets can be purchased here.
The Fort's 60th "Sam'l's Favorite Pig Pickin' Whole Hog BBQ"
Thursday, May 18, 5-9 p.m.
The Fort's 60th "Sam'l's Favorite Pig Pickin" whole hog BBQ cooked by Smok Barbecue. The Fort will serve all sides including jicama coleslaw, Mill grits with goat cheese, green chile corn bread, heirloom BBQ campfire beans and "Pig Pickin' " cake!
Hosted on our East Covered Patio featuring award-winning views of downtown Denver. We'll have live music, plenty of bites, and our bourbon hailstorm, the first cocktail served in Colorado in 1845. Cash bar available for all other beverage options.