Drinks of the West at The Fort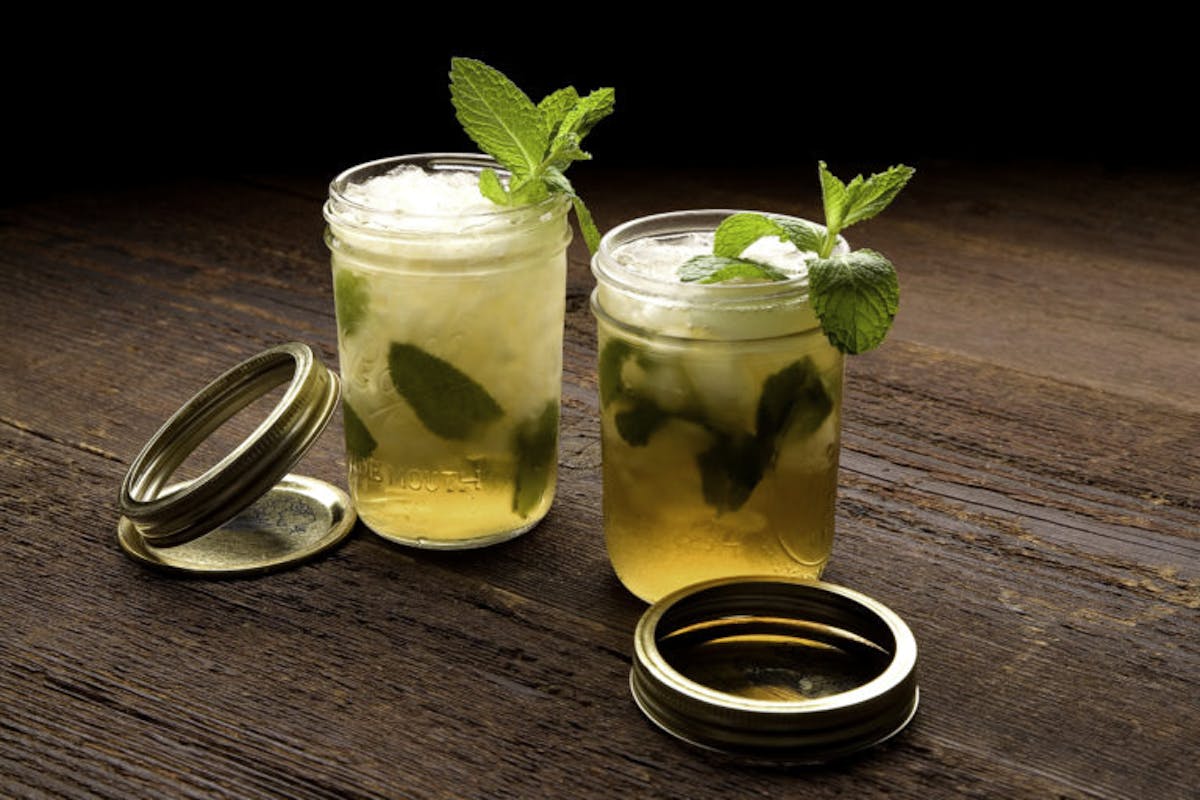 (Includes excerpts from Proprietress Holly Arnold Kinney's "The Fort Cookbook")
The Fort is well-known for being a full-scale adobe replica of the famous 19th century fur trading port Bent's Old Fort, as well as offering "New Foods of the Old West," selling more buffalo entrees than any other independent restaurant. But did you know? The Fort also has an extensive cocktail, beer and wine selection and has earned the Wine Spectator's Award of Excellence for nearly two decades.
Fur Trade Potables
The Fort's drink menu includes authentic concoctions from 170 years ago, so guests can enjoy unusual tastes of early America.
Trade Whiskey: By the time quality whiskey made its way west in the 1860s, the American Indians resisted it and instead preferred the flavor of the liquor they had become accustomed to. When whiskey was brought to be traded at the camps, the chief would sample the contents of each barrel to be sure that the spirit was worth the furs being traded. Today, The Fort serves Trade Whiskey using a historic old western fur trade recipe: fine bourbon deliciously flavored with red pepper, tobacco and black gun powder.
The 1840 Hailstorm Premiere Julep: Colorado's Front Range is located in "Hail Alley," meaning it receives the highest frequency of hail in North America. In the 1830s, visitors at Bent's Old Fort would make the most of storms by catching the hail in a mason jar and mixing the cocktail that eventually became known as the Hailstorm Premiere Julep. Since the day Sam'l and Bay Arnold opened The Fort in 1963, the Hailstorm Julep has been a staple on the cocktail menu. It was originally made with Monongahela whiskey from Pittsburgh or wheat whiskey from Taos. At The Fort, this drink can be made with a variety of whiskeys or cognac, depending on the guest's preference.
1732 Philadelphia Fish House Punch: A personal favorite of Sam Arnold, Philadelphia Fish House Punch is thought to be one of the oldest punch recipes served in America. Scholars believe the recipe originated in the 1600s, in London, as a farmers' club punch, and was later served in America at the Fish House Tavern in Schuylkill, Pa. Both Sam and Holly were excited when, in 1994, they came across a recipe for the punch. Always on the lookout for historic recipes, the drink was immediately added to The Fort's repertoire.
Wine and Beer at The Fort
The Fort served Robert Mondavi wines when he first opened his Napa vineyard in 1965. Sam Arnold and the Mondavis were good friends, and it's believed they taught each other a lot about their respective spheres of interest. Sam wanted The Fort to have one of the top wine lists in Colorado and set out to achieve it. He knew a lot of good French wines from Pauillac and Medoc, as well as French Champagne, had been traded along the Santa Fe Trail, and he stocked the cellars with similar vintages. Additionally, The Fort supported wines made in Colorado and New Mexico, which, believe it or not, became a serious wine region as early as the mid-1800s.
Nowadays, Holly and her husband, Jeremy, travel to Napa Valley and stay with the Cakebread family of Cakebread Cellars. While in California, they taste a lot of wine with an eye to stock The Fort's cellars. They visit with the Duncans, who own Silver Oak Cellars and are also buffalo ranchers. They see Kate McMurray and Janet Trefethen of Trefethen Family Vineyards, and Joseph Phelps of Joseph Phelps Vineyards. Joseph is a Colorado contractor who was a friend of Sam's.
When Holly joined her father to run The Fort in 1999, they had lost their competitive edge with wine. The industry had become so sophisticated over the years and The Fort had simply not kept up. Holly was determined to turn this around quickly. She wanted to earn a Wine Spectator award and designation for the restaurant.
Holly asked The Fort's then dining manager, Chris Seres, to expand his position to include managing the wine program. Chris contacted a master sommelier and got to work. They swapped out the mediocre wines for best-selling vintages, bought little-known but great wines from boutique vineyards and never spent more money than was allocated to inventory. Holly was unaware of all Chris was doing, so she was surprised and gratified when he announced that he was applying for Wine Spectator's coveted Award of Excellence – and The Fort won! Holly was so proud of Chris and is still proud that the restaurant has earned this distinction every year for nearly two decades.
Today, The Fort's staff and customers love the wine program and the exciting, extensive wine list. It is The Fort's philosophy that if you give good value on good wine with a smaller markup than is standard, customers will come back and order more. This attitude has benefited The Fort and its customers well for more than 55 years. And let's face it: there is nothing better than a good bottle of cabernet, shiraz or pinot with a juicy buffalo steak!
The Fort was the first American establishment to serve Carta Blanca beer, imported from Mexico, in 1963, but the most popular beer on draft was Coors. At that time, Coors was sold only in Colorado and was a cult beer. Made with Rocky Mountain spring water, it was so good that Coloradans would smuggle it to friends and families in other states. Coors is brewed in the nearby town of Golden. The Coors family has been coming to The Fort for generations for a good Herman Joseph of Golden Coors beer served with our game meat.
The Fort also serves a large selection of microbrews, as more than 400 breweries call Colorado home! The next time you dine with us, ask our team for cocktail, wine or beer recommendations to accompany your meal. Cheers!