Roasted Bell Pepper with Wild Mushroom Risotto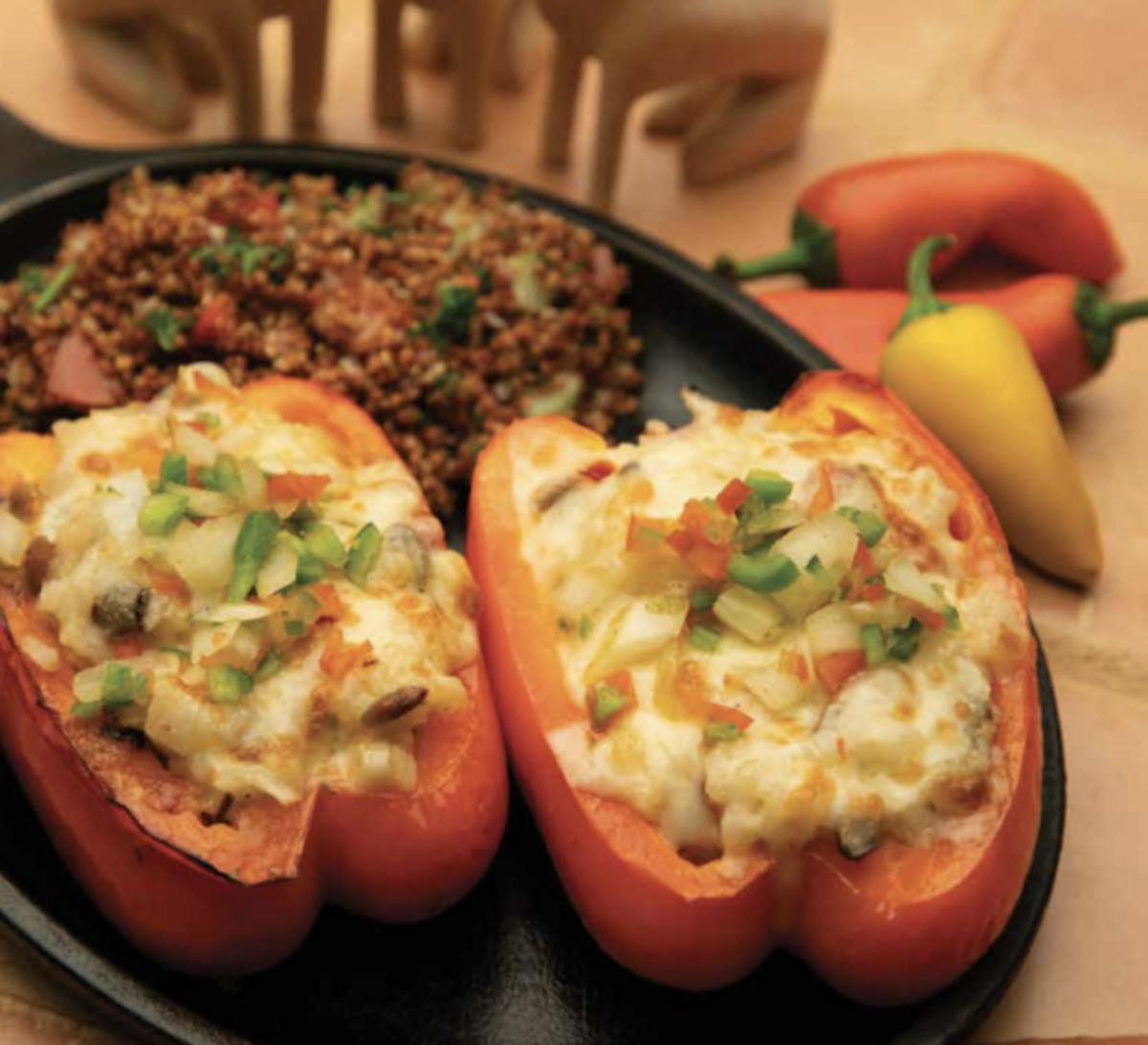 Both colorful and delicious, this vegetarian entrée celebrates the garden and forest bounty! It was The Fort's seasonal vegetarian entrée in 2020. Follow the recipe below to enjoy this vegetarian meal on a cold day.
Ingredients
2 cups chopped shitake mushrooms
2 tbsp. olive oil
2 cups arborio rice
3 cups vegetable stock
1 cup dry white wine
½ tbsp. fresh thyme
Salt and freshly ground pepper, to taste
½ cup corn kernels, fresh or frozen
½ cup diced onions
½ cup cooked Anasazi beans (canned)
½ cup toasted pepitas
4 red bell peppers, halved lengthwise, and insides cleaned
2 cups shredded pepper jack cheese
Directions
In a large sauté pan, add the olive oil and heat the pan to medium heat. Add the mushrooms, onions and thyme and sauté, stirring occasionally, to let the onions and mushrooms caramelize. Add rice, 1 cup of vegetable stock and ½ cup of wine, until absorbed, stirring constantly. Add another cup of stock and the remaining wine, until absorbed, stirring until absorbed. Add the final cup of stock and continue to stir until completely absorbed. Add salt and freshly ground pepper to taste. Add the corn, onions, Anasazi beans and pepitas to the risotto mixture and cook until heated through.
Preheat the oven to 425 degrees.
Spray a baking pan with canola oil and lightly spray the uncooked halved bell peppers (optional- may keep the green stem, halved, or remove. The peppers are the edible "dish") with oil. Place peppers in the pan and roast in the hot oven for 15 minutes. Remove from oven and let cool for 5-8 minutes.
Fill the bell peppers with the risotto mixture. Top with the pepper jack cheese and bake for 8 to 10 minutes more to melt and brown the cheese. Serve two halves per person.