The Fort's Curried Butternut Squash Soup Recipe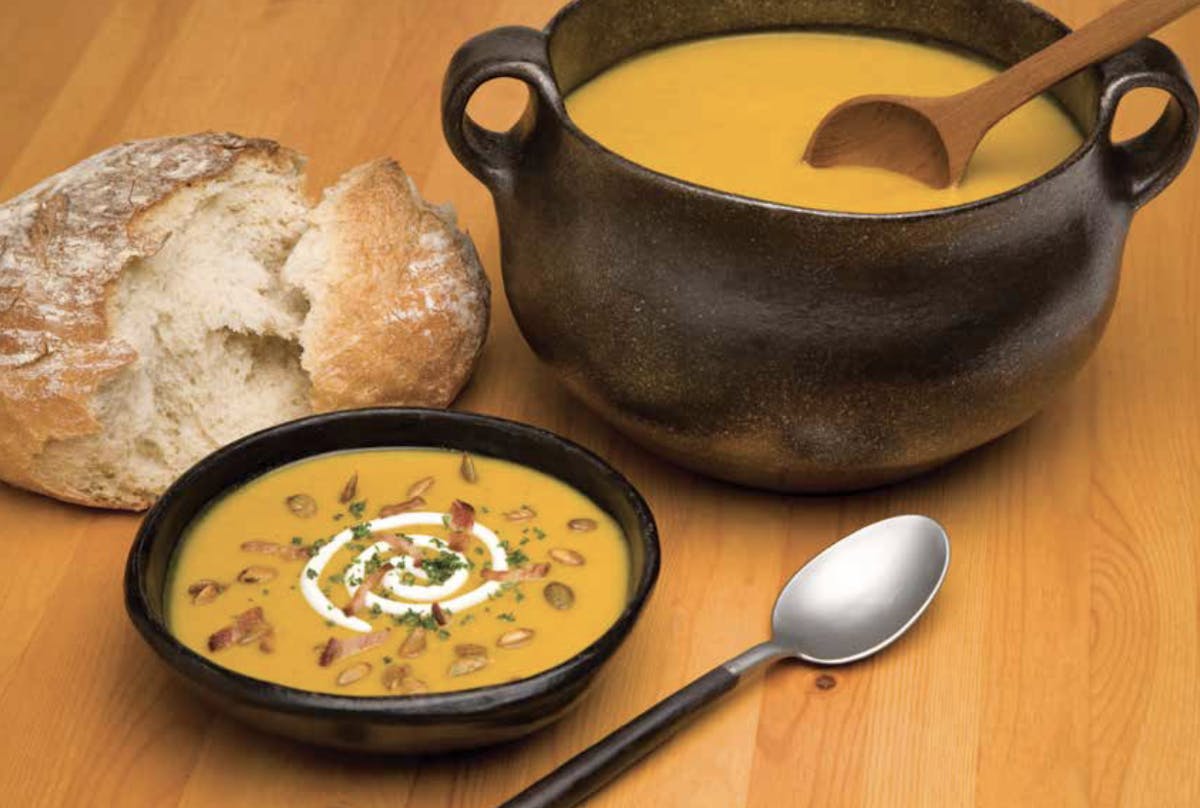 (Excerpted from Proprietress Holly Arnold Kinney's "The Fort Cookbook")
Inspired by the familiar squash soups found throughout the Southwest and flavored with East Indian curry—traded at Bent's Fort in the 19th century—this delicious soup appears on our menu with happy regularity as a soup special. It is perfect served on a cold evening with cornbread and a green salad.
Follow the recipe below to prepare a hearty bowl for yourself!
Ingredients
1 large butternut squash (about 3 ½ lbs.)
3 tbsp. unsalted butter or vegetable oil
2 large leeks (white and yellow part only), rinsed thoroughly and chopped
4 tsp. fresh ginger root, peeled and minced
1 tbsp. curry powder (Madras preferred)
⅛–¼ tsp. cayenne pepper, to taste
4–6 c. chicken or vegetable broth
Salt, to taste
Garnish
2–3 tbsp. minced Italian parsley
4–6 tbsp. crisp, crumbled bacon
4–6 tbsp. mild goat cheese
3–4 tbsp. hulled squash seeds (pepitas), lightly toasted (optional)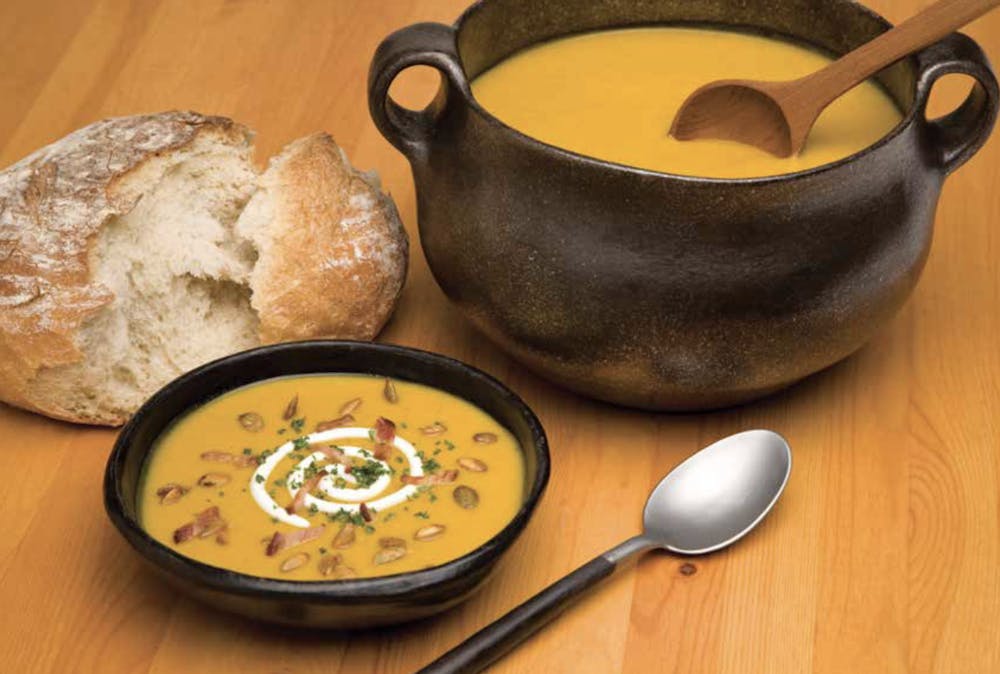 Directions
With a large, sharp knife, cut squash in half lengthwise. Scrape out the seeds and stringy inner portions.
To cook in a conventional oven: Preheat the oven to 350°F. Place the squash halves cut side down in a baking pan and add enough water to come 1 inch up the sides. Cover the pan tightly with aluminum foil and bake for about 1 hour, until squash is tender when pierced with a knife.
To cook in a microwave oven: Place squash halves cut side down in a microwave-safe dish with ½ inch of water. Cover the dish with microwave-safe plastic wrap and cook on high for 12 minutes. Allow squash to sit in the microwave without removing plastic for 10 to 15 minutes.
When the squash is cool enough to handle, use a large spoon to scoop out the pulp and set it aside. Discard the skin.
Place the butter or oil in a heavy-bottomed soup pot over medium-low heat. Add the leeks, ginger, curry and cayenne and cook, stirring, until leeks are softened but not browned, 5 to 7 minutes. Stir in the squash and 4 cups of broth. Season to taste with salt.
Bring to a simmer over medium-high heat. Reduce heat to medium-low and cook, stirring and breaking up the squash with a spoon, for 20 minutes.
Carefully transfer the mixture to a food processor or blender and purée until smooth. Return the purée to the pot, and if the soup seems too thick, add additional broth. Taste and add more salt, if needed. Bring the soup to a simmer over medium heat, stirring, until heated through.
Ladle the soup into warmed bowls and garnish each serving with parsley, crisp bacon crumbles and a tablespoon of goat cheese placed in the middle of the bowl. Toasted squash seeds are also a very good garnish for this soup.

Note: Curry powder may discolor wooden and plastic utensils as well as food processor blades.